With summer just around the corner (although you wouldn't know it with all this rain!), it's the perfect time to start bringing a bit of colour back into life and what better way than with this watercolour colour garland DIY! It's the perfect opportunity to get out your paints and have a bit of fun mixing colours PLUS the final product would look amazing as a cute spring time party decor or even in your bedroom (mine's hanging over my bed right now!).
Time: 30 minutes
Materials:
– Watercolour paints and brushes
– Watercolour paper (or heavy art paper)
– Large circle punch
– Sewing machine + thread
The first step is to get painty! Watercolour paints are perfect for this project because they create such a gorgeous wash. The key is to not get too concerned with what colour should go where, just add a heap of water and have a little fun! I used pan watercolours but the tube paints work just as well. If you don't have watercolours, you could easily just add water to acrylic or poster paint to get a nice wash.
After your paper has dried, it's time to cut the circles. This is where a large circle punch comes in handy! Seriously, my circle punch is one of my most favourite craft tools, I use it all the time for making tags, stickers and embellishments! So if you're thinking of investing, I highly recommend you do! They're pretty inexpensive and you'll definitely get your money's worth.
Once you've got all your circles, thread up your machine with a cute coloured thread and then it's simply a matter of sewing down the middle of each circle. When you get near the end, just feed another through! Before you know it, you'll have a gorgeous string of circles.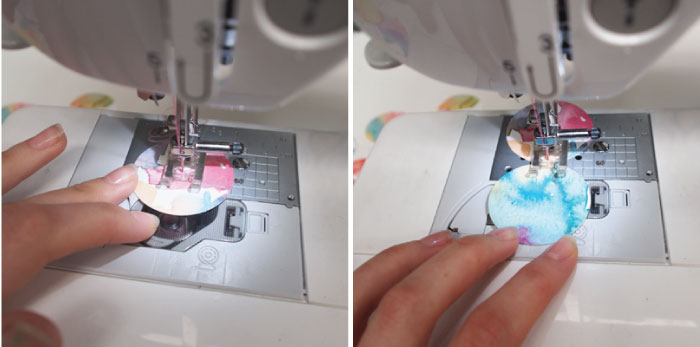 And there you have it, a bit of colour for your weekend! I feel more summery already!