I know, I know, I'm on a bit of a Coen Brothers fix at the moment but that's kind of my thing – if I enjoy a film/show, I go back and watch the entire back-catalogue in one big hit! I did with Wes Anderson's films, Mad Men, 30 Rock and I'm doing it again! However, in this case, I was lucky enough to see 'Inside Llewyn Davis' at the cinema in Berlin while I was traveling over the summer. I recently gave it a re-watch and remembered how much I loved it's narrative and visuals. Cue a design review!
(If you're planning to watch the film, there are a few spoilers below! So give it a watch and then come right back, k?)
'Inside Llewyn Davis' follows a meandering, sometimes dream-like narrative centred around one week in the life of Llewyn Davis (Oscar Isaac), a musician trying to make it in the Greenwich Village folk scene in 1961. This film certainly isn't a musical but performances and folk music drive the narrative and it's from this music that Production Designer Jess Gonchor took his cues. In an interview with Below the Line, he explains how folk music 'is a few instruments and a few chords so the scenery needed to match that tempo'. This meant scouting locations across New York that weren't 'visually noisy' and instead could serve as blank canvases which period design elements could be subtly added to (in particular, keep an eye out for some SERIOUSLY gorgeous vintage-style type and signs!).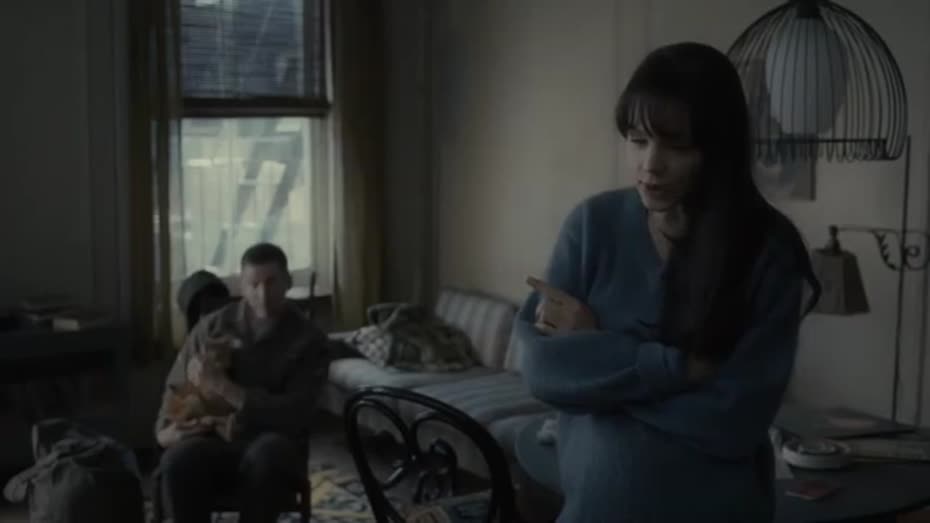 This idea of removing visual noise is continued in the colour palette. There's no pure, bright pops of colour and instead everything feels as though it's been hit by a cloud of dust. This of course is helped by a stunning colour grade and some gorgeous grain but none the less, the film's palette is made of slightly grubby dark blues, greens and dusty reds and browns. This not only creates a slightly sepia-toned sense nostalgia but reflects Llewyn's down-and-out character and the folk-music scene he lives in, which is a little unkempt.
But for me, the greatest triumph of this film is it's locations and how they perfectly support the story. From Jim (Justin Timberlake) and Jean's (Carey Mulligan) pokey apartment and ridiculously narrow hallway to the smoke-filled basement Gas Light bar, all the West Village locations are warm yet small and stiffing, creating a feeling of being trapped. So it's no surprise when Llewyn jumps at the chance to escape this environment and drive an aging Jazz musician (John Goodman) down to Chicago. Once on the road, the locations drastically change. Bright, hot reds and luminous greens overtake the previously dusty colour palette. This intensified, acidic aesthetic culminates at the 'Fred Harvey Oasis Dining Room', a huge, modern roadside diner filled with hard plastic red chairs, lino flooring and harsh lighting. This set is such a departure from everything we're seen in the West Village and the stark contrast gives it a dream-like sense of unreality, making the events that unfold here all the more strange. Llewyn, with his corduroy jacket and acoustic guitar, is obviously out of place in this commercial world and by creating this contrast, we're given a bit of visual foreshadowing of the rejection he'll later face in Chicago.
Ultimately, 'Inside Llewyn Davis' is wistful love story of folk music and it's production design perfectly supports this. It's light and understated but full of heart and character. Give this film a watch, it won't disappoint!
For more 'Inside Llewyn Davis' fun, check out these behind the scenes photos PLUS an interview with Jess Gonchor.